Welcome to Linfor Inc.
Linfor Inc is a manufacturer of formed hydraulic tube assemblies, fabricated tubular parts and tube manifolds, custom tube assemblies and manifolds, structural components, charge air lines, welding & brazing, cold forming ORS ends, end fitting attachments, multi-connection manifolds, and aluminized steel. We use the highest quality control systems and equipment to meet your tube bending and manifold fabrication requirements. We make every effort to ensure a positive experience for our customers from the initial product CAD design to delivery of the finished tube or manifold. Our products are used for hydraulic lines, brake and fuel lines, engine cooling and lube lines, A/C lines, exhaust pipes, many different structural and mechanical components, handle bars and hand rails, and much more. We also provide stainless steel (304 & 316), corrosion resistant coatings, and DOM steel tubing.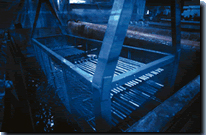 At Linfor Inc., we adapt our design and manufacturing process to meet the specific needs of every business. In order to help our customers save unnecessary expenses, we offer Custom Delivery for both small and large releases. Whether you need 5 or 500 (or more) products, Linfor Inc has you covered. We offer a very wide range of common stock products and materials including: Varied sizes and thicknesses of Hydraulic Tube, Aluminized Steel for Exhaust Lines, Stainless Steel.
The cosmetic quality of your order is important. We want your parts to look good on the final assembly. We maintain our facility in a high state of cleanliness to keep our staff focused on providing a positive experience for our customers with every order. To ensure we can offer these results, we utilize automatic cut-off, de-burring, and cleaning machines, custom metal end caps, and plastic end caps (for processing and/or shipping).
Our design, manufacturing technology and tube manifold products are just a part of our company. Linfor Inc is also a company where customer service extends far beyond the technology of our products. We communicate with our customers at every step and at every level in order to assure the very best in quality and accuracy of every product and order. Built on 45 years of experience, our system of communication ensures that every order flows through as efficiently as possible while keeping the customer informed and up to date on their order. Our partnership with our customers results in the best tube bending design for each application.
Our "Services" page will show in greater depth the process of placing an order with Linfor Inc. and our Tube Design and Tube Manifolds pages will help you get started.